Mount Gambier & Warrnambool.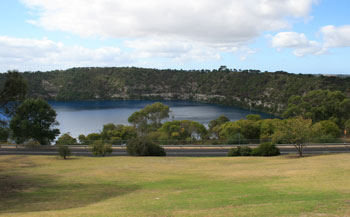 Blue Lake - Mount Gambier.
Mount Gambier.
Sunday, 18th March, 2012
Early last Saturday we went to Mount Gambier for shopping and visiting.
The weather was not the best, but we got a reasonable picture of the Blue Lake.
The shopping did not go very well at all. We found none of the things we went there specially to buy. All of them would have been on the shelves in Alice, so we were rather surprised, and anoyed.