Henty & Portland.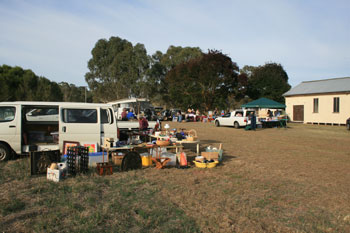 Henty Market
Henty.
Sunday, 1st April, 2012
We'd seen a poster for a car boot sale at Henty hall on Sunday the first, so we decided to make that our weeks trip.
Daylight saving ended today, so we were up with plenty of time to get to the market. Once there we were surprised at the number of stalls considering the Henty hall was in the middle of nothing. The market had a very pleasant atmosphere.
We got some fruit and Lyn found some nic-nacs, then we continued on towards Portland.
The road from Henty to Heywood was pretty rough. You could see how the heavy, and very fast travelling, log trucks had pounded ruts into the road. The side where they returned empty was very noticeably better. There were a lot of small, black furred, wallabies around too, along with some dead large grey roos on the side of the road.