Begonia Festival.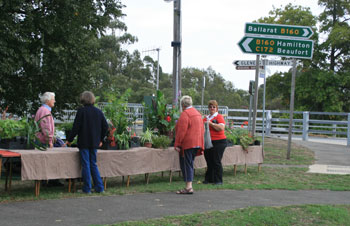 Market at Skipton.
Ballarat.
Sunday, 11th March, 2012
Yesterday we drove to Ballarat for the annual Begonia Festival. We left early to make sure we got there by the opening as we wanted to see what goodies were for sale at the Begonia Club's stall.
We stopped at a small street market in Skipton where Lyn bought a plant. The first for the day.
We made Ballarat in time, but we are definitely not city people. The traffic and closed-in feeling is nothing like the outback. Maybe we have been out bush too long.