Maisie.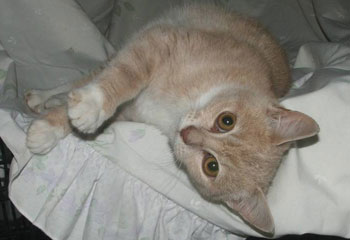 Maisie's add photo.
Alice Springs.
Sunday, 24th June, 2012
Our search for a new cat continued on and off, now focused on the internet.
The first we found that seemed right was in Darwin, but the more photos we saw, the more she reminded us of Zebbie.
We widened our search to WA and found quite a few nice cats, but no one was willing to go to the trouble to send them to us. Then we turned to NSW as many of the adds indicated that they were willing to send the cat, when finally our heart was taken by this little twerp called "The Divine Miss Maisie". With a face like that, who could resist?