Preparing to leave Alice Springs.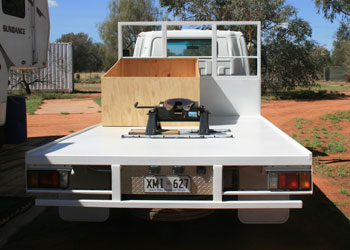 Plant box on back of truck.
Alice Springs.
Sunday, 26th February, 2012
It's been raining in the Centre, with forecast of much more, and so we are looking to leave before we get rained-in.
We spent the weekend getting ready for the move. We made a new box for some of the things we carry on the back of the truck, and fitted the hitch again.
Then we turned our attention to the container. Its amazing how much stuff we have accumulated while we have been here.