Painting the Truck Tray.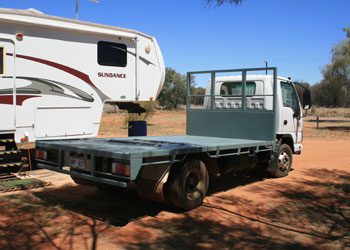 Truck tray undercoated.
Alice Springs.
Sunday, 12th February, 2012
From the moment we picked up our truck, the paint job on the tray has been a source of complaint. I had got a very good quote to sandblast the tray in Alice, but with our departure imminent, we thought we might give it a quick clean and spray ourselves.
Wire brushing the metal went well, and soon the tray was good to paint. It was then the problem started. There were no thinners to be had in town. Stock was due in during the week. I had enough to start, so that is what we did.
By 9am Sunday, the tray was a nice grey primer colour, but the white top coat will have to wait until next weekend. At least the undercoat looks OK.