Mataranka - Travelling South.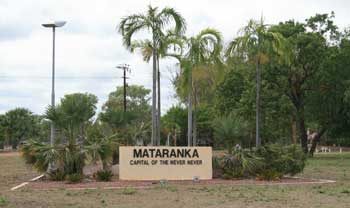 Sign at the entrance to Mataranka.
Mataranka. Newcastle Waters.
Thursday, 15th October, 2010
We left Katherine before 8am this morning, heading South with Alice Springs as a possible destination.
Mataranka was our first stop to pick up some travel lollies from the shop.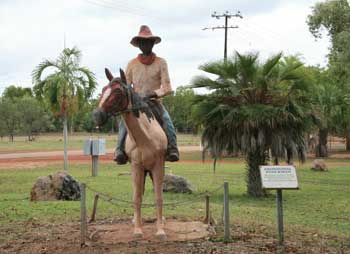 Mataranka park.
At one end of the main roadside park was a group of statues taken from the book "We of the Never Never".
Mataranka park.
Mataranka park.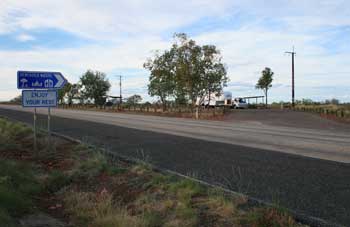 Newcastle Waters rest area.
We stopped for the day at Newcastle Waters rest area. It is on the crest of a hill, and we had stayed there two times before. We had the site to ourselves until dusk when two other travellers stopped there.
All was well until the early hours of the morning when we were woken by the wind. It was blowing a small gale outside, and after lying, listening to it for a while, we decided to get up and get moving before we lost the satellite dish and outside plants.
We'd planned on being in Tennant Creek just after noon so Lyn could do the washing, but leaving at 3.00am. put us in Tennant at 9.00am Saturday morning. A bit too early to go to the caravan park, but we did not have to. As we slowed down for the town, the truck made a strange loud noise. After quite a bit of stopping and starting, finally found the noise to be coming from a worn rubber support on the air cleaner. We had enough bits in the toolbox to fix it, so what had sounded like a very expensive problem was cheaply solved.