Katherine and her Hot Springs.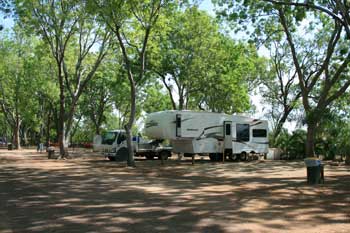 Our site at Katherine Riverview Caravan Park.
Riverview caravan park. Katherine Hot Springs. Katherine Gorge.
Thursday, 14th October, 2010
The information on our job at Katherine finally came through on Monday, so Tuesday we moved down to Katherine to be ready to start the next Monday.
Originally we were going to stay at a park out of town, but some friends who were going to the same job were staying in town, and we decided to go to the same park. It was not very full, so we were able to get a large site pretty much to ourselves.
The park was quite nice, but certainly not cheap and not very friendly to our sort of travelers, catering to the short stay holiday traffic.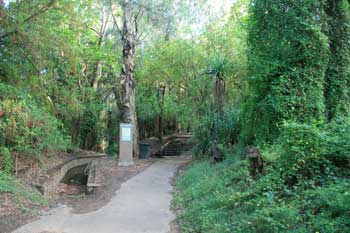 Katherine Hot Springs.
The hot springs were just through the back fence and down the river side.
Katherine Hot Springs.
The water came from the side of the river bank, and flowed quickly through a narrow channel and then into a wider concrete structure to bathing.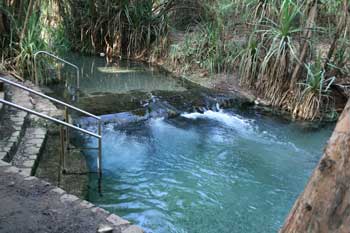 Katherine Hot Springs.
There was a small waterfall into a larger bathing pool.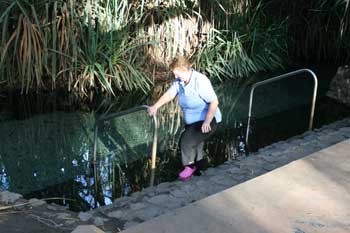 Lyn at the hot springs.
There were a lot of places to get into the water. Most of them were very shallow, but the water was quite fast moving.
Testing the water found it to be warm, rather than hot.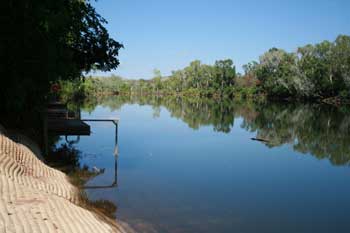 River near Katherine Gorge.
Later in the morning we went out to Katherine Gorge. It is quite a way out of town, and when we got there, it was quite hard to work out where we should park and what was what.
We finally managed to see the river before we passed out from exhaustion. It was very nice, but all we could think of was the hike back to the cool truck.
Overall we were very disappointed with the whole place. Unless you were prepared to pay the high prices for the tours, you really saw very little, and had to walk miles in the heat to see that.
A real tourist trap - Definitely not recommended.