Termites! - feels like home.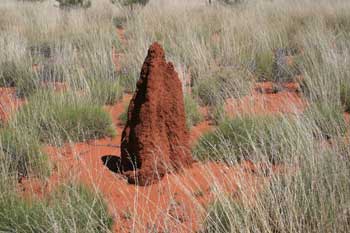 Termite mound just north of Alice Springs.
Sunday, 3rd October, 2010
There is nothing like the sight of termite mounds to bring on feelings of being home, and we were quite surprised today to see them quite close to Alice.
We left around 8.30am and started heading North.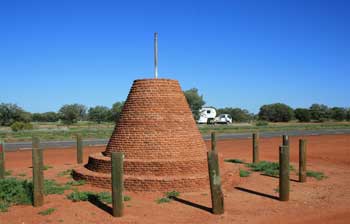 Highest point marker.
A little way out of town we came to the cairn marking the highest point on the main road between Adelaide and Darwin.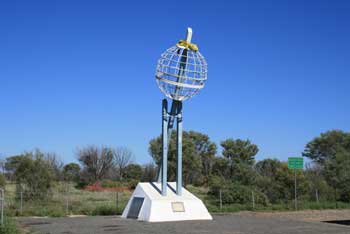 Tropic of Capricorn marker.
A few more miles up the road and it was the Tropic of Capricorn marker. We'd seen it last year, but this time someone had put a large crocodile on top.
The monuments continued, but we stopped looking. Instead the wildflowers became much more prominant. Orange blossomed trees. White, yellow, mauve, pink and blue flowers extending through the undergrowth, and then there were the termite mounds. We had not remembered them being so far down, so we were pleasantly surprised to see them here.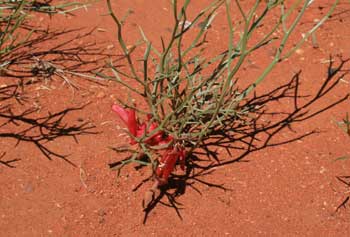 Pretty red wildflower.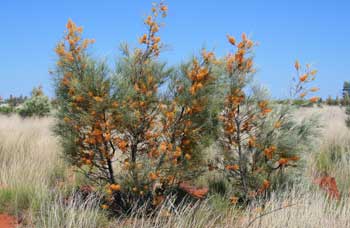 Flowering shrubs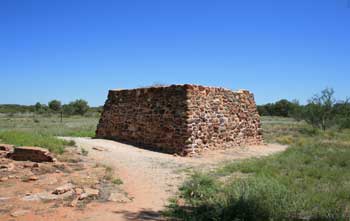 The remains of Ryans Well.
Our next stop was at Ryans Well Historical Reserve, before Aileron.
All that was left of the well were the well surrounds and some of the trough supports.
The well was 24M deep, hand dug in 1889. Originally a horse was used to pull up large buckets of water to full the long trough.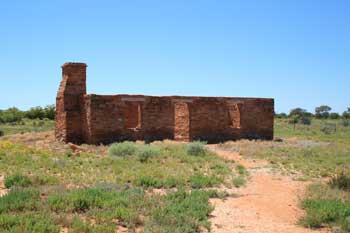 Ruins of homestead and telegraph station
Opposite the well were the remains of a 1918 homestead.
In later years it was used as a telegraph station until being abandoned in 1935.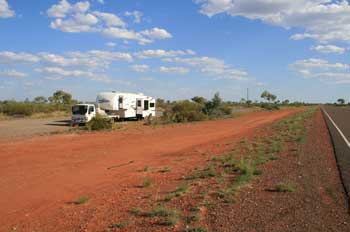 Our overnight camp near Ali Gurung.
Our stopping place for the night was just past the trunoff to Ali Curung.
It was quite hot, but the air conditioner soon had the van quite nice, and the area was very quiet all night.