First week in Ceduna.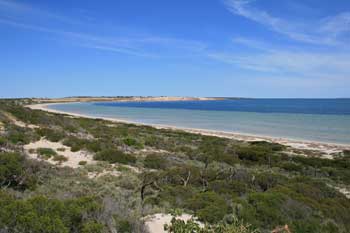 Shelly Beach, looking east.
Thursday, 11th November, 2010
Our site at the Shelly Beach Caravan Park was really nice. The park is on the land side of a high sand dune that keeps the wind away from the sites.
Over the sand dune is Shelly Beach, named for all the shells that cover the sand.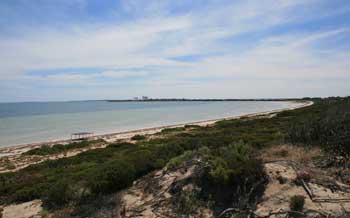 Shelly Beach looking West with the port in the distance..
It is really nice to walk along the beach in the late afternoon. Good to go paddling again without crocodiles, and so many nice shells to collect. With it being such a nice place to stay we were looking forward to spending a few months here, but.......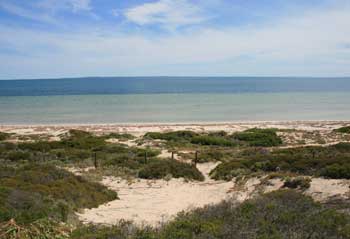 Shelly Beach from the dune top.
We had made a real effort to get here before lunch on Friday to get the work organised, but when I rang the contact at Skilled in Ceduna, they brushed me off and said to ring them sometime next week.
Monday I rang again and managed to get an apointment for 11am on Tuesday. Pretty annoyed with Skilled, I went to the two other agencies nearby and got pretty much the same tone of service.
Tuesday 11am, I was at Skilled's door for my interview, which consisted of them handing me a heap of forms to fill out and telling me I could bring them back tomorrow.
Tuesday 1pm, I returned the forms and was told they would be in touch. There was no hurry as I could not get an appointment for a medical for at least a week, even if I was approved. At this point I was getting really annoyed, and so decided to visit the employer direct.
The employer, Viterra, was really nice. The office staff told me more than anyone else to date, but said all their recruiting was being done through Skilled. With that, the Skilled lady arrived to give them some paperwork. She was a little surprised to see me there, and I felt she mentally put me at the bottom of her list. Needless to say I've not heard from her since.
Since then I've spent many happy hours scouring the internet for work, and all the possible prospects I've rung have turned out to be agencies with the same sort of delaying attitude, so we are fast coming to the conclusion that this may be our first and last week in Ceduna, and we're making plans to head to Adelaide if nothing come up in the next day or so. To add to that decision, the weather today is very hot and very windy. Not even nice to go on the beach.