Bye Bye Alice - Hello Ceduna.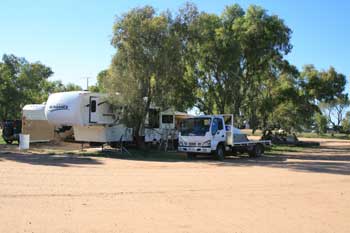 Our site at the Hall of Fame, Alice Springs.
Alice Springs to Ceduna.
Friday, 5th November, 2010
All weekend we'd been contacting people we knew around the country trying to find out where there was reasonable work available. Sunday night we heard that there was plenty of work in Ceduna working at grain storage on the wharf.
First thing Monday I rang the recruiter for the job and was told there would be work there for us, so we spent the day tidying up and packing ready for an early start tomorrow.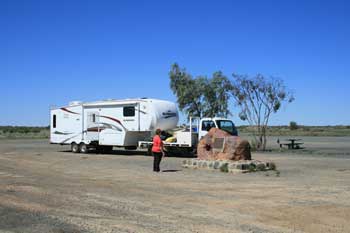 Stuart highway completion marker near Marla.
It was Melbourne Cup day when we left Alice, but it did not bother us. The main task was to get as far as possible as we wanted to be in Ceduna by Friday to get sorted with the job.
We had very few stops during the day, but at one of them found this marker to the final sealing of the Stuart Highway.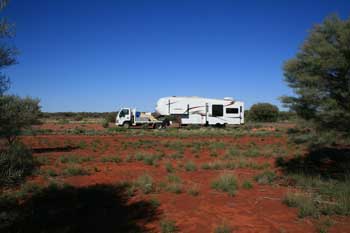 Overnight site near Marla.
Our destination was a site we had used before near Marla in South Australia, and we made it before dusk.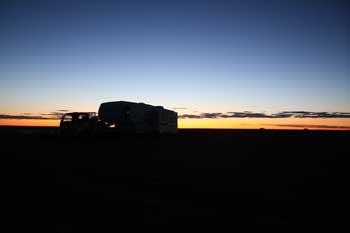 Sunset at our overnight site before Woomera.
Wednesday was much the same. Trying to make as much distance as possible. A detour into Coober Pedy for fuel and groceries was the main event for the day. The small roundabout in the main street was a bit of a problem, but we got around. It must have been payday because there were many natives in town and around the street.
We ended up stopping for the night at a parking bay before woomera. It was pretty open and high up on the plateau, so it proved to be very windy all night.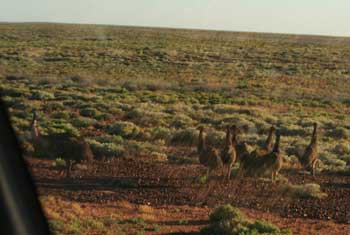 Emu family near Woomera.
Next morning as we set off we saw this family of emu by the road.
Port Augusta was a major stop. First for fuel, and then for groceries. Also called into the French Hot Bakery for a pastie. It was so good, we went back for another and some deserts. Highly reccomended. Great quality and good prices.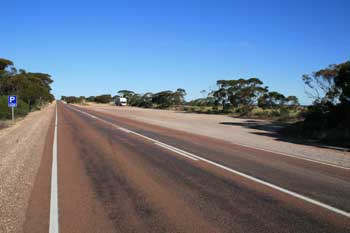 Overnight site near Wundinna.
We travelled through Kimba which seemed as though it had lost a lot of its good points, and finished for the day near Wundinna at a very noisey roadside bay. This left us with an easy half day's trip into Ceduna tomorrow.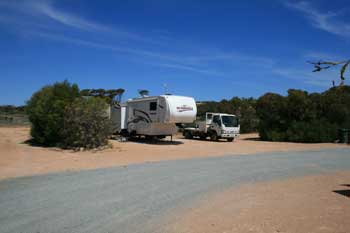 Our site at Shelly Beach Caravan Park.
We arrived in Ceduna late Friday morning, and after driving past all the caravan parks, we settled on the Shelley Beach one a little bit out of town. The owners offered us several very good sites, but Lyn choose this one so we had places for her plants on the shade, and privacy on our door side.
After lunch I rang the contact for work and was told to ring back sometime next week for an apointment. Not very happy with that brushoff after all the effort we had made to get here quickly. I hope it is not a indication of what is to come.