2011 - The Missing Year.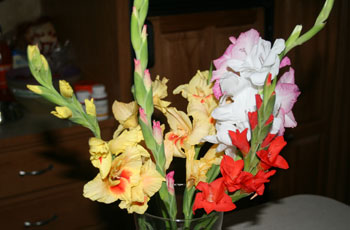 Some of our mixed gladdies.
Alice Springs.
Sunday, 8th January, 2012
I'm sure you will have noticed that there has been no activity on this site for over a year now. In that time we have stayed and worked in Alice Springs again, and most of the things we did were the same as the previous year. Now we are making preparations to move, so this seems a good time to continue updating.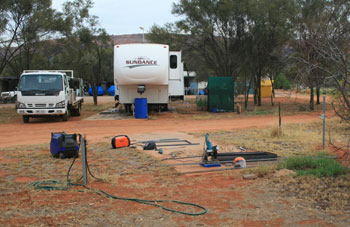 Working on shelves for container.
We are not yet sure exactly when we will leave, and where we will go. It depends a bit on work and money.
We bought a new 20 foot shipping container last year, and collected all our possessions from storage and put them in our container. Since then we have been working to turn the empty container into a neat storeroom/laundry/workshop. Here we're making the third of four needed racks. Since the summer days are so hot here, there is only a small amount of time in the early morning where it is cool enough to work and weld outside before the metal gets too hot to hold onto.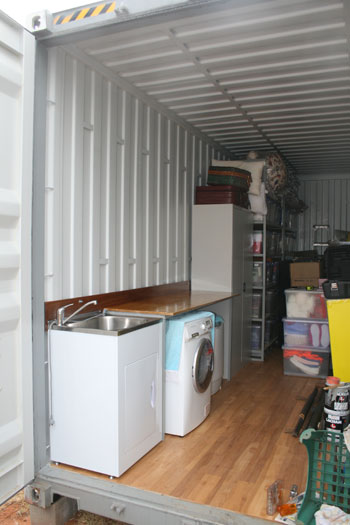 Laundry setup inside our container.
While we were buying the washing machine, we saw some discounted vinyl tiles, so the container now has a nice easy-clean floor.
The laundry section includes a plumbed-in sink. We still have to get the matching dryer to fit under the bench, but it is all working now for Lyn to do her washing.
Finishing fitting out the container is one of the things keeping us here. We would like to have it all finished before we leave. One good thing about where we are staying is that it is possible to weld and spray paint - things not possible in a caravan park.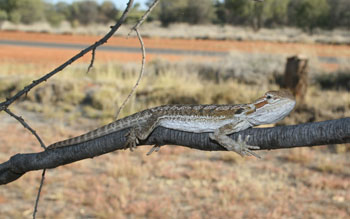 Lizard up a tree watching us work.
While working on the shelves I heard a rustle behind me and turned to see this cute lizard on a branch behind me. Much nicer than the snake I thought it was