Newcastle and Daly Waters.
Stopped on the Barkley Tableland.
Tuesday, 5th October, 2010
Most of today we were driving on the Barkley Tableland. It was not very interesting, just flat land with miserable looking scrub.
The turnoff to the old Newcastle Waters township came up and we decided to have a look this time rather than just drive past.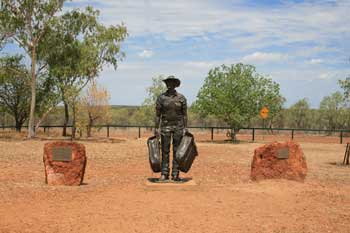 Drover's memorial park, Newcastle Waters.
Parts of the old town were still in use, and other buildings were set for display.
The town park was well cared for and had, as a main feature, a bronze statue of a drover. Opposite the park was a quite new, but rather small, school.
It was really hot outside, and after a quick walk in the park, we were glad to be back in the air conditioning.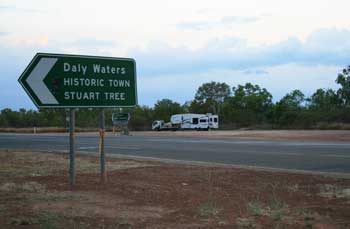 Our overnight camp spot near Daly Waters.
It was time to pull up for the night, but we had trouble finding a good spot. There were a surprising number of people travelling, and trying to find a spot to outselves was not easy. From our last time through, I remembred a large area at the Daly Waters turnoff, so we just made for it.
We were the only ones at the spot when we got there, but just on dark a motorhome pulled in quite near to us. They did not stay too long as they were followed by a triple roadtrain who turned on his aircon motor for the night. Luckily for us, he had parked well away from us, but we still heard his motor all night.